Legal & Bid Notices
Click here for Public notices.
---
Bid Notices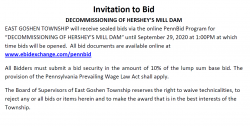 ---
Click here to view the ANNUAL GROUP BIDS – 2020
AWARDED BID RESULTS
Click here to sign up for E-mail Notification of Public Bids.
Sign up is quick easy and you can choose only information you wish to receive.