"Clean Energy Future" Event – 1/19/21
Introducing Clean Energy Future
East Goshen Township is exited to announce a new initiative called Clean Energy Future! West Chester Area municipalities (East Bradford, East Goshen, West Goshen, Westtown, West Whiteland, and the West Chester Borough) have partnered in a commitment to 100% renewable electricity by the year 2035 and 100% total renewable energy by the year 2050.
We need your help to make this happen! Clean Energy Future is focused on three important steps to reach our goal: REDUCE the amount of energy you use; ELECTRIFY the sources of energy you use and; TRANSITION to 100% renewable energy. Together we can make the change.
Join us for our first community engagement event:
Date:   January 19, 2021
Time:  6:00 – 7:00 PM
Where: Virtual
Registration Required: www.nugwc.org/cef-event 
(Zoom link will be provided)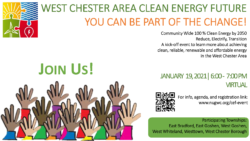 Visit https://wcacog.org/clean-energy-future to learn more.