Concerts & Events
Activity: Township Wide Yard Sale
Date: Saturday, May 19th; 9am – 1pm (Rain Date, Sunday May 20th)
Location: East Goshen Township Park, near the baseball fields
Description: Clear out your garages, sheds and attics and make a little pocket change along the way! The township will be composing a map of all yard sale sites and providing yard sale signs (first come, first served). Those living in gated communities can reserve a spot at the Township Building – call 610-692- 7171 to reserve your spot today!
---
Activity: 9th Annual Tribute Trek
Date: Saturday, May 19th 10am
Location: East Goshen Park, Veteran's Pavilion
Description: The Tribute Trek is an annual fundraising walk held in memory of Dr. David L. Strauss, one of the founders of ReMed, who lost his battle with brain cancer at the age of 47. Through ReMed, a local brain injury rehabilitation services provider, David helped many brain injury survivors learn to live again. In his memory, his colleagues founded the Council on Brain Injury (CoBI). CoBI is committed to honoring David's dream of increasing awareness of brain injury, improving the lives of those affected by brain injury, and preventing brain injury. Every year, the local brain injury community of survivors, families, caregivers, colleagues, and friends gather to "trek" and raise funds to fulfill that very dream. All are welcome to partake in this meaningful event. Come help turn this dream into a reality!
The 1-mile course, pavilion, parking and restrooms are wheelchair accessible.  Please, note that this event will take place rain or shine.
To register for this event or for more information, contact:
Marlene Rivera at 610-695-6315, ext. 438 or at  mrivera@councilonbraininjury.org or visit www.councilonbraininjury.org
---
Activity: West Chester Band performance
Date: Thursday, June 7th; 6:30pm-7:30pm
Location: East Goshen Township Park, stage
Description: The West Chester Band has been performing in the Chester County area since 1986 and for the last fifteen years has been under the direction of Joseph Gehring who also directs the Immaculata University's Symphony and Concert Band, and the Chesco Pops Orchestra. Some of the other venues where West Chester Band has performed have been Longwood Gardens, the New Holland Summer Entertainment in the Park , Anson B. Nixon Park in Kennett Square and now East Goshen Township Park! The summer 2018 program includes a West Side Story Medley, the John Philip Sousa's Semper Fidelis March, and arrangements by Leroy Anderson, Henry Mancini, and others.
Fee: Free!
---
Activity: Color 5k Run presented by the Youth Mentoring Partnership
Date: Saturday, June 23, 2018, 10:00am
Description: gotgritCOLOR5k! – Endless joy and color in this untimed, non-competitive event as you are showered with powder (non-toxic, biodegradable dyed cornstarch) along the route!
All proceeds from this event benefit the Youth Mentoring Partnership (YMP) and its Friend Fitness Program. Friend Fitness is YMP's signature program, provided at NO CHARGE, which utilizes physical fitness as its medium to teach goal setting and grit. The program serves local youth in grades 6-12. To register, please visit www.gotgrit5k.com
On June 23, what will your true colors be?
---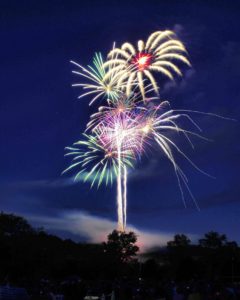 Activity: East Goshen Township's Community Day Celebration
Date: Saturday, June 30th (Rain Date: July 1st)
Location: East Goshen Township Park, stage
Description: Come out to beautiful East Goshen Park this June and start the summer with a "bang"!
The fun-filled event includes moon bounces, live music, health screenings, a helicopter landing, petting zoo, a few surprises and ten food trucks serving a delicious bevy of options! The night ends with spectacular fireworks display extending over the Applebrook Park vista!
Fee: Free!
---
Activity: Commonwealth Classic Theatre Company presents THE COMPLETE HISTORY OF AMERICA (ABRIDGED)
Date: Thursday, July 19th; 6:30pm
Location: East Goshen Township Park, stage
Description: CCTC's 2018 Free Theatre in the Parks production returns with THE COMPLETE HISTORY OF AMERICA (ABRIDGED), a satirical and fast-paced review of all of American history, from the pre-colonial era to modern day. Long-time CCTC performer and Philadelphia improvisational comedy mainstay Kristen Schier (Much Ado About Nothing, The Game of Love and Chance, Love's Labors Lost, The Tempest) will direct a diverse cast of Philadelphia actors and improvisers.
Fee: Free!
---
Activity: East Goshen Food Truck and Music Festival
Date: Saturday, August 25th; 4pm – 8pm
Location: East Goshen Township Park, stage area
Description: Last year's inaugural Food Truck Festival was a SMASH hit! We anticipated 500 people and had over 2,500! This year's FTF will include MORE food trucks and MORE awesome live music! Stay tuned for music and food truck lineup announcements!
Fee: Free!
---
Activity: Movie in the Park – Star Wars: The Last Jedi
Dates: Friday, September 14th, 8pm
Location: East Goshen Township Park, stage
Description: Get out your light saber and get ready to battle Darth Vader!!!
Fee: Free!
---
Activity: Cookie Cutters Shave Off
Dates: Saturday, September 22nd, 9am – ???
Location: Cookie Cutters Haircuts for Kids (1516 Paoli Pike)
Description: Come on over and get your head shaved for a great cause – Nemours Hospital! Don't want to get your head shaved – just come over to see Jason get his head shaved (again)!
Learn more about the event at: https://www.eventbrite.com/e/shave-off-tickets-42314836816
---
Activity: Brandywine Baseball Club, Home Games
Date: 4/21, 4/29, 6/10, 6/30, 7/14, 8/11 & 9/29
Times: 11am-2:30pm (play multiple games each date)
Location: East Goshen Park, up past football field
Description: East Goshen is proud to be the home field for the Brandywine Baseball Club. The Brandywine Baseball Club formed in 2013 is modeled after its 19th century namesake, which formed in 1865 right here in West Chester. They travel up and down the East Coast, playing other mid-Atlantic teams based on the 1864 rules. It is very interesting to watch…no gloves, hand stitched baseballs and period appropriate uniforms. As the BBC's home field, the Township encourages everyone to grab a lawn chair, head over to the park and catch a game!
Fee: FREE!
---
Activity: East Goshen Farmer's Market
Dates: Thursdays, May 10th – October 11th, 3pm – 7pm
Location: East Goshen Park, East End
Come visit everyone's favorite local market – the East Goshen Farmers Market! Our vendors pride themselves on having the highest quality products all made locally! Come shop for produce, meats, baked goods, handmade jewelry and soaps! The market will also be a hub to meet and enjoy some entertainment! We've increased live music performances this summer and we'll have four moon bounce days for the kids!!! We're also expanding our popular Classic and Antique Car Cruise days! Bring out your hot rod or just come to see some automotive beauties – every third Thursday of the month!
Whether you are someone who loves quality food, someone on the way home from work, or a family looking for something fun to do – The East Goshen Farmers Market will be THE place to be this summer!
Visit our Farmer's Market Page for a list of events
---
Activity: Applebrook Golf Outings
Dates: Monday, May 14th; Tuesday, June 26th and September 18th
Format: The Monday outing is resident only, tee times starting at 9am. Residents can bring up to three guests for the June and September golf outings. The June and September outings have 1pm shotgun start tee times, preceded by a lunch on the veranda. Golfers can carry, use a pull cart (personal) or use a caddy but cannot change option once at the golf outing. Click here to register or contact Jason Lang at 610-692-7171.
Fee: $105 ($30 caddy fee)
---
Activity: Farmers Market Volunteers Needed!
Do you love the market and want to help make it better than ever! Become a market volunteer! Volunteers are needed to help with preseason marketing and onsite event help. Email Jason or call 610-692-7171 if interested!
---
Activity: Green Thumbs needed!!!
Help us make the Butterfly Pollinator Garden a beautiful park asset for years to come! Volunteers will be needed to ensure the garden is weeded, watered and loved! Experience not needed – just enthusiasm!  If you have experience leading environmental education and/or nature classes – contact Jason!
---
Activity: Play Ambassadors needed!!!
The new playground is going to be amazing – but we need your help! Play Ambassadors will help guide the Imagination Playground fun…think life-size Lego's! This opportunity is open to everyone over 14, and perfect for those in HS, college, or interested in youth development!  To learn more, contact Jason!
---
Activity: East Goshen Stones League
Location: East Goshen Park behind the tennis courts
Description: Ever heard of Stones??? Probably not, but it's the next big sport! It's most like playing bocce in the middle of the woods – with logs, stumps and rocks all in play! This fun sport can be played by all ages and is new to East Goshen Township Park! The founders of Stones have put a tremendous amount of time and "sweat equity" into the course in EGT Park – come try it out!!!
Contact Information: Call 267-225-7522 or email info@phillystones.com
---
Activity: Goshen Fire Company Junior Firefighter Program
Description: Start as a Cadet Firefighter at 14 and become a Junior Firefighter at 16.
Learn more by calling 610-430-1558 or email Capt. Gerry DiNunzio