East Goshen Honored With Award
East Goshen Township was honored Friday June 9th at the annual Transportation Management Association of Chester County (TMACC) membership and awards luncheon with the 2017 Community Award for the Paoli Pike Trail Master Plan Project.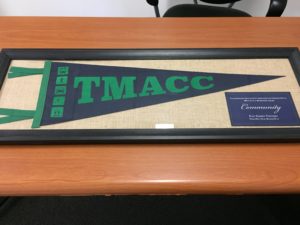 The Paoli Pike Master Plan project is a 2.7 mile bicycle and pedestrian trail along Paoli Pike linking the community resources along the Paoli Pike Corridor.  The Paoli Pike Trail in East Goshen is currently in the design and engineering phase with phased construction scheduled to begin in 2018. 
Community
The TMACC award for Community is presented to an organization, company or township that actively works to improve the quality of life for the residents, employees or the community at large.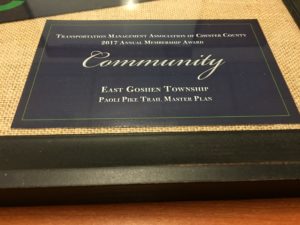 Examples of Community Projects: 
Champions of large scale mass transit investments, improvements to the trails and bike lane networks, alternative commuting methods, spearheading coalitions, committees and working groups.