Register Now – Neighborhood University
Area Townships to Continue Citizen Education Program
The West Chester Are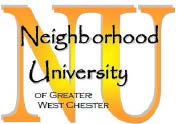 a Council of Governments is proud to offer the Neighborhood University of Greater West Chester again this year. The Neighborhood University is intended to provide area citizens with the tools necessary to be better advocates for their community by educating them on local government structure, and by increasing their awareness of available municipal services and resources.  Developed by the staffs of local municipalities, the free 10-week training program will educate area residents on the inner workings of local government.   Neighborhood University is open to any citizen 16 or older residing in one of the participating communities (East Bradford, East Goshen, Thornbury (ChesCo),  West Chester, West Goshen, West Whiteland, and Westtown).   The 2-hour sessions, which will begin on September 6, 2018, will be facilitated by local and county government officials, and will cover topics including:
Structure of local government in Pennsylvania
Police
Zoning and Land Use
Public Finance
Transportation
Public Works
For more information and registering in the Neighborhood University program, please visit our web page www.nugwc.org after June 1st.