2023 Pickleball and Tennis Court Project
East Goshen Township Parks and Recreation is happy to announce that we'll be improving EGT Park's pickleball and tennis court facilities in 2023! Our racquet sport play has really exploded in the last few years and this will be a welcome renovation.
The project will include (see picture):
Six (6) permanent post, dark blue, pickleball courts with light blue kitchen areas
One (1) permanent post, green tennis court lined for two additional pickleball courts
Two (2) wheeled pickleball nets for use on the lined courts
Internal 4" black powder coated fencing to stop errant balls from crossing courts
Bleachers for spectator viewing
Park kiosk for information posting
Permanent court number signs positioned along the fence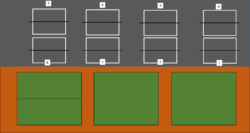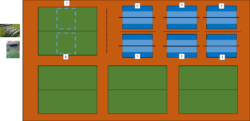 Project timeline: Keystone Sports Construction (Phoenixville) will be installing the courts, tentatively scheduled for early summer.
Weather permitting it will be a two-week project, and the front three tennis courts will remain open during construction.
Project History:
Early 2016: Back three tennis courts ruined in storm.
2016: EGTPR conducts month long pictorial assessment of tennis court need. Conclusion is the need for four courts.
2017 – 2022: Back three courts area blacktopped and opened for a number of potential uses (pickleball, roller hockey, futsal) with pickleball quickly becoming Township residents preferred use of the space.
Early 2022: Township Board of Supervisors approve moving Capital Budget funding from amphitheater band shell project to fund permanent court installation, at the request of Parks and Rec Director Jason Lang.
Spring 2022: Township awarded Chester County PPP Grant to fund 50% of the project's cost.
How was this design selected:
East Goshen Township only has one active park to offer its residents. With both pickleball and tennis play increasing dramatically in the last few years, we wanted to serve both populations at best we can. Given the need for a fourth tennis court and  wanting to keep eight pickleball courts, the designed "hybrid" court was the best way to meet our project goals. One positive consideration is that traditionally EGT tennis play has been "weeknight" and weekend" and pickleball "daytime" and "weekend" so pressures on the hybrid court will be at a minimum.
Survey Results:
We also appreciated a large degree of public input via survey about court color and orientation, with the pictured project overwhelmingly in favor.
76% wanted "blue" pickleball courts vs. 24% wanted "green" pickleball courts
60% wanted the permanent pickleball courts to be closer to the wood line/shade despite the slope vs 40% wanting the permanent pickleball courts in full sunlight on the playground side.
Where do we go from here?
We'll post updates once a construction schedule is finalized. After that, join us for a ribbon cutting ceremony! Depending on summer/fall 2023 court demand, we are also working on an App that could be used to easily schedule court time.
Questions? Email Jason at jlang@eastgoshen.org