Featured News
Due to inclement weather, the Egg Hunt is postponed to Sunday, 4/28 @ 10am
---
Local authorities have advised us that pipeline leak testing with water and air pressure will be conducted on Friday, 4/19/19, near the Bow Tree Development. Please note this may result in a whistling sound and there is no need to be alarmed.




Events & Meetings
Fri Apr 19
Township Office Closed
Sat Apr 20 10:00am

Egg Hunt-postponed until 4/28
Mon Apr 22 7:00pm

Sustainability Advisory Com.
Tue Apr 23 10:00am

Toddler Story Time-Playground
Wed Apr 24 4:00pm

WEGO Police Mtg@WEGO Station
Thu Apr 25 5:00pm

Pipeline Task Force
Sun Apr 28 10:00am

Egg Hunt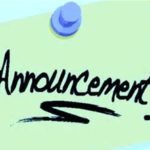 On Tuesday, April 9, the Board of Supervisors approved new sewer rates for 2019 of $33.74 fixed and $8.42 per thousand gallons variable.  New bills will be mailed out on Monday, April 15. Click above for more information.