Featured News
In observance of Presidents' Day
the Township Office will be closed
on Monday, February 18, 2019.
Residents with Monday/Thursday trash pickup will have it collected
on Monday 2/18/19.



Events
Mon Feb 18
Township Office Closed
Fri Feb 22 9:30am
Senior Card Club
Fri Mar 1 9:30am
Senior Card Club
Sat Apr 13
Washington DC Trip
Meetings
Wed Feb 20 7:00pm
Planning Commision Workshop
Mon Feb 25 7:00pm
Sustainability Advisory Com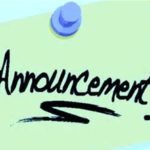 At the meeting held on 2/5/19 the Board of Supervisors decided not to move forward with the plan to amend the Open Space Development Zoning Ordinance.