Featured News
The Township Building is open to the public from 8 am – 5 pm.
Click here for Township Operations.
Click here for Township Meeting access information.
Click here for Chester County's COVID-19 information.




Events & Meetings
Thu Aug 13 7:00pm

Historical Commission-Canceled
Tue Aug 18 7:00pm

Board of Supervisors
Thu Aug 20 7:00pm

Futurist Committee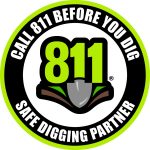 Tuesday, August 11 is National 811 Day. Know what's below and call 811 before you dig.