Trash & Recycling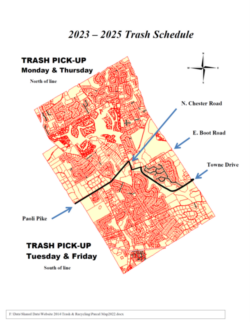 ****
2023 – 2025 Trash Pickup Schedule: Pickup for properties on the North Side of the black line will be Monday and Thursday. Recycling will be picked up on Monday only.
Trash pickup for properties on the South side of the black line is on Tuesday and Friday. Recycling will be picked up on Tuesday only.
The Township does not provide trash containers. The trash hauler does not use the "toter" containers so any trash container is acceptable.
NOTE: Please put trash, recycling and yard waste out the night before the collection day.
Recycling containers are available at no cost at the Township Office. The Township will provide one recycling container per household.
Click here to enlarge the map.
Please note that trash will not be picked up on the dates listed below. This will not be made up at a later date.
Trash Holiday Schedule
Memorial Day
Monday – May 29, 2023
Independence Day
Tuesday – July 4, 2023
Labor Day
Monday – September 4, 2023
Thanksgiving
Thursday, November 23, 2023
Christmas
Monday, December 25, 2023
---
Visit Chester County Solid Waste Authority Website for detailed information on how to dispose
and/or recycle any of the following items.
| | | | |
| --- | --- | --- | --- |
| Aluminum | Automotive Waste | Battery Recycling | Cell Phones |
| Computers | Fluorescent Items | Hangers | Medical Waste |
| Mercury | Paint | Polystyrene | Printer Cartridges |
| Propane Tanks | Smoke Detectors | Styrofoam (Blocks) | X-Rays |
| Video Tapes | | | |
The Chester County Solid Waste Authority can also provide information regarding Recycling Locations, Freon Recovery and Swaps or Donations.
---
Useful Links:
Chester County Solid Waste Authority Website