Peddling & Soliciting Ordinance
Peddling & Soliciting Ordinance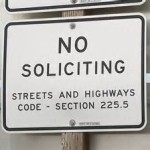 As per Township Ordinance No. 169 it shall be unlawful for any person who is not the holder of a valid and unexpired license issued pursuant to this chapter to engage in selling, purchasing or soliciting the sale or purchase of food, printed matter, services, goods, wares or merchandise of any description, or in soliciting contributions, gifts or pledges of money or any other thing of value, by visitation to private homes or residences or on the public streets or highways of East Goshen Township.
---
Below is a list of solicitation permits issued by East Goshen Township. Permits are valid for one year after the date issued.
DO NOT CALL REGISTRY
Residents who do NOT want solicitors calling upon their property can sign up here for the Do Not Call Registry.
Solicitors are required to check this list prior to conducting business in East Goshen Township.
Click here for the Do Not Call list that was last updated on July 19, 2023.
Peddling & Soliciting Permit Application
Completed forms must be submitted in person to the Township during normal operating hours.
East Goshen Township
1580 Paoli Pike
West Chester, PA 19380