2022 Showcase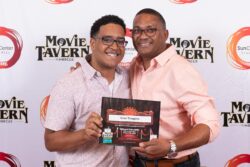 Calling all teenage filmmakers! Come see your movie, short film or video on the big screen! We are partnering with the beautiful, new, Movie Tavern Exton to host the 2022 SE Pennsylvania Teen Filmmakers Showcase! Event attendees will walk a red carpet and join fellow teens in a 150 seat arena to watch some great cinema! Take part in a Q & A with industry professionals, film school faculty and more! If you are thinking of applying to film school – come rub elbows with the decision makers! Submissions from high school film clubs will also be considered. The Showcase is a three night event, beginning with the in-person Showcase followed by two nights of live streaming the local and international film selections!
Monday, August 8, 2022 (Opening Night):
5:00pm – Filmmakers Social Mixer
6pm to 7:30pm – Screening of selected films
7:30pm to 7:45pm – Voting for Fan Favorite Award via Social Media App
8:00pm – Awards Announcements and conclusion of Showcase
Email Jason Lang for full submission details of visit the FilmFreeway link below!
New in 2022!

We'll have a second theatre exclusively for a General Admission audience! Come check out some amazing films and support local teenagers involved in the arts! The best part is we are partnering with the Ukraine Film Office in Kiev and net proceeds from GA tickets will go to Ukrainian teen filmmaker Olga Artushevska, 2022 Official Selection for her film, Valera!    Click here to purchase tickets!
Tuesday, August 9, 2022 (Live Streaming national/local edition)*:
5:00pm – Filmmakers Social Mixer via Zoom
6pm to 8:30pm – Screening of selected films (Selected films will be from Pennsylvania as well as across the country)
Wednesday, August 10, 2022 (Virtual Live Streaming International Edition):
5:00pm – Filmmakers Social Mixer via Zoom
6pm to 8:30pm – Screening of selected films (Selected films will be international/national)
Educational Resource for teachers link